5 Nov 2011, the 2nd book:
"Joe Bunni + – 5 m"
The book is available in small from our organization since nov 2011. Order it by dropping us a message on our contact page.
Price: 100€ + shipping
– 16 € shipping to France
– 36 € shipping to Europe
– 48 € shipping to the rest of the World
During G-20 summit november 2011 in France, this book has been offered by the French Government to the heads of states or governments.
The book is about pictures taken all over the world, at 5 meters above or below sea level.
This work, with a preface by H.S.H Prince Albert II of Monaco, is a world premiere. Not so much for the pictures as for its concept:
For each of the 14 chapters of the book, the author has invited a writer to contribute a poem in his native language.
Each poem has then been translated into the 13 other languages in this book.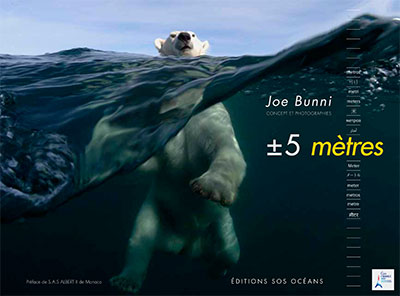 Through his pictures, the photograph tries to make the broader public aware of what can be seen by anyone through a diving mask, with a snorkel, and with lots of patience and luck.
Things that risk never to be seen again…
2007: Joe Bunni – Impressionniste de l'océan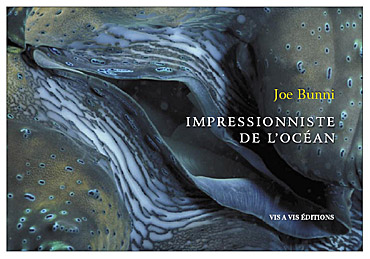 The work "IMPRESSIONNISTE DE L'OCEAN"
is available in bookstores for 26 € TTC.
Click here to preview an extract (PDF)…
In developing viewpoints that merge microcosmos and macrocosmos, Joe Bunni manages to blur the traditional picture of the seabed and its inhabitants. He draws a pictorialist dreamlike vision of this still vastly unknown world, which is now in danger.
With a preface by Jean-Michel Cousteau and 250 pictures, this work has received endorsement by W.W.F.
Text by Dominique Le Tirant
Edition SOS Océans